39

Plays

Devotional // 9.11.2012 | Commit Thy Works Unto the Lord

Aiane Karla
Download External Audio
Devotional // 9.11.2012 | Commit Thy Works Unto the Lord
Summary: Committing our works, our doings, our plans—ourselves—once and for all to the hands of God takes away every cause for worry and concern.
Book read: The Promises of God by H. M. S. Richards
____________________
[To listen via smartphone and/or devices without a flash player, click on the arrow on the lower right corner of the box above.
180 Plays
Devotional // 5.4.2012 | "We Should Convey the Truth in Tactful Words"Aiane Karla
Devotional // 5.4.2012 | "We Should Convey the Truth in Tactful Words"
Source: Ellen White, Christ Triumphant
60 Plays
Devotional // 4.17.2012 | "Wisdom Shown by My Conversation"Aiane Karla
Download External Audio
Devotional // 4.17.2012 | "Wisdom Shown by My Conversation"
Source: Ellen White, My Life Today
Words—so innocent and powerless as they are, as standing in a dictionary, how potent for good and evil they become, in the hands of one who knows how to combine them!
The Power of a Woman's Words by Sharon Jaynes. Ladies, this is a book I highly recommend. I bought it for the Kindle app on my iPhone early last year, and absolutely loved it! The author encourages women to use their words to build up rather than tear down.
The last three pictures are screenshots of the Table of Contents. …for those that are curious. Click on the pictures to enlarge them. They are arranged from left to right. The book also has other resources (such as a DVD, an interactive studyguide and a workbook).
Let me know what you think of the book if you decide to read it! :)
30 Plays
Devotional // 1.21.2012Aiane Karla
Devotional // 1.21.2012 | "Temper"
Source: Bobbie Jane Van Dolson, How to Get to Heaven From Your House (a Morning Watch devotional)
40 Plays
Devotional // 1.20.2012Aiane Karla
Devotional // 1.20.2012 | "Think and Speak Well of Others"
Source: Ellen White, Help in Daily Living: A practical guide to everyday blessings
Devotional // 12.20.2011
"Behold, how great a matter a little fire kindleth! And the tongue is a fire…and setteth on fire the course of nature." - James 3:5, 6

On the evening of October 8, 1871, Mrs. O'Leary, who lived on the west side of the hustling frontier city of Chicago, lighted her little kerosene lantern and went out to her barn to milk her cow. She fastened the cow's head in the stall, put her lantern on the floor, then sat down on a contrary mood that night, and suddenly, without warning, it let fly a vicious kick. It knocked over the kerosene lantern, and caused Mrs. O'Leary to lose her balance, and before she could pick herself up the straw on the floor was on fire.
This is such an inspirational post by chairman of Thomas Nelson Publishers, Michael Hyatt. A must read and share.
Devotional // 12.12.2011
"Let your speech be alway with grace, seasoned with salt." - Colossians 4:6

One of the saddest stories I have ever read was a poem by Will Carleton called "The First Settler's Story." In this poem he tells the experience of an early pioneer with his brave young wife, as they built their cabin out in the Middle West, and struggled to clear their land and make a living. He tells of the lonely days, the homesick days, the hard days, and the happy days as they toiled together. Then he tells of the days when too much work and too much weariness began to take the flavor from their words, and "old attentions" and "kind caresses" were left out. Then one night the husband came home, weary and exhausted from his work, and when he went to milk the cows, he found they had wandered away and he had to go and find them. Then in temper he spoke impatiently to his wife and said:
You ought to've kept the animals in view,

And drove them in; you'd nothing else to do.

The heft of all our life on me must fall;

You just lie around, and let me do it all.
An Audrey Hepburn Quote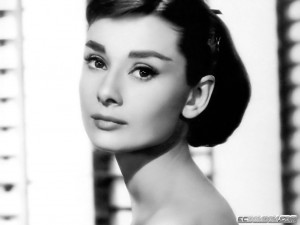 For attractive lips, speak words of kindness.
For lovely eyes, seek out the good in people.
For a slim figure, share your food with the hungry.
For beautiful hair, let a child run his fingers through it once a day.
For poise, walk with the knowledge you'll never walk alone…
People, even more than things, have to be restored, renewed, revived,
reclaimed and redeemed and redeemed …